KVK , Sakoli (Bhandara) has conducted On Farm Testing on 52 farmers field by using rice grain planter.
Traditionally in rice growing areas like Bhandara District ,farmers used to prepare paddy nursery by broadcasting method by sowing 100-125 kg seed per ha and transplant rice crop with conventional method. Land preparation, puddling & transplanting these are major operations which plays important part in cost of cultivationof transplanted rice. Near about 30 % cost increases due to these operations. Some farmers used broadcasted drill rice & conventional transplanting method. In these methods plant to plant and row to row distance should not maintained & due to that more infestation of diseases & insects on paddy crops was observed and interculture with weeder not possible only manual weeding is the option and it reduced the crop production & increased cost of production.
KVK Sakoli implemented On Farm Testing in adopted villages, Fanoli and Salebhata. Total 20.8 ha area was covered and 52 farmers sown crop in both Villages with the help of rice grain planter. This was first time the drill rice sown by rice grain planter on large basis in the district and there is Saving of 15000 Rs/ha. (Puddling Transplanting, Nursery management)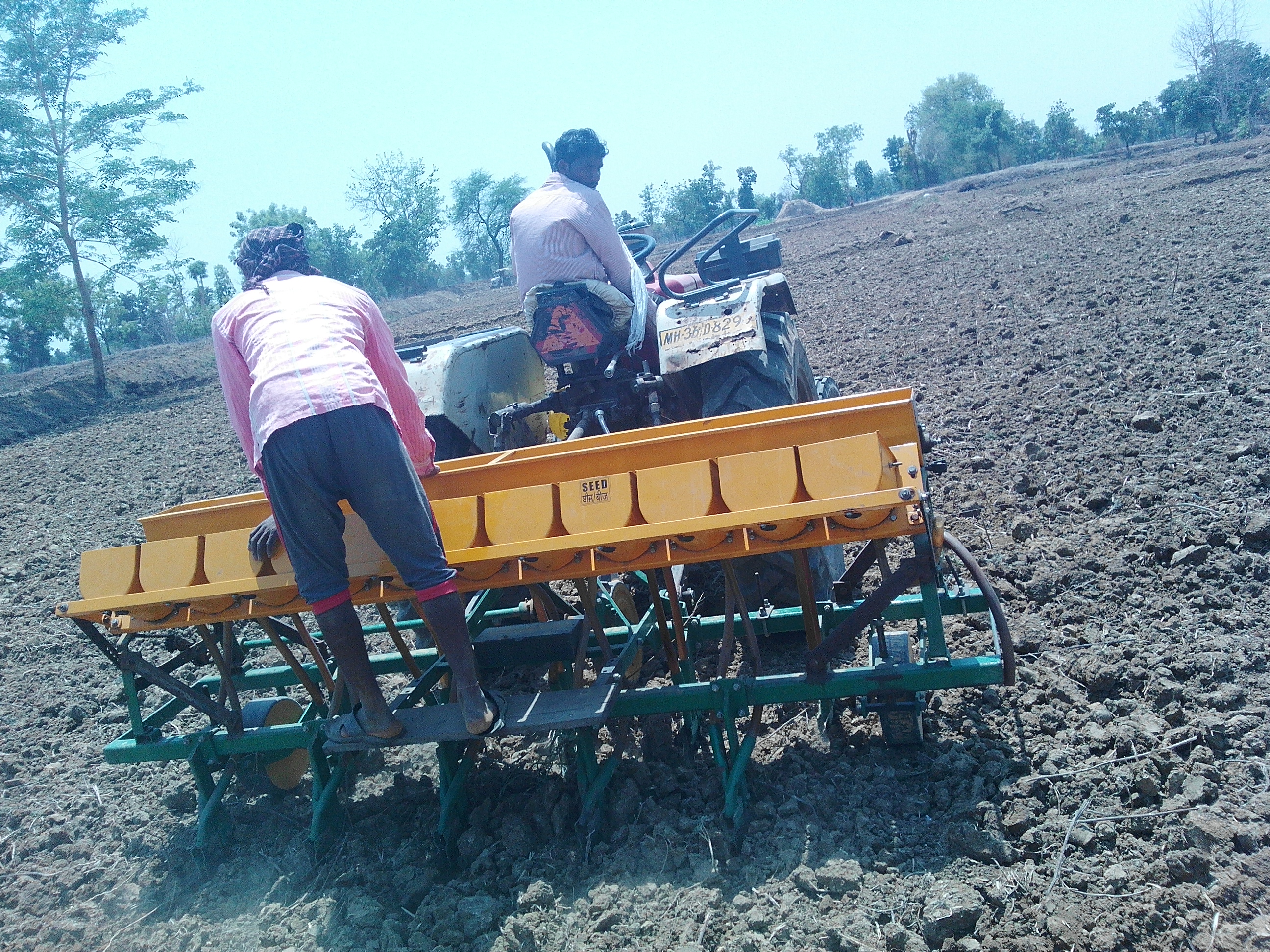 Rice grain planter reduced the seed rate 50 kg/ ha for fine varieties &75 kg/ ha for Bold varieties With reduction in the cost of puddling and transplanting. Rice grain planter also maintained row to row distance from 20 cm to 30 cm. This helps in inter cultural operations in rice crops. This Drill rice also sustainable & reduced the expenditure on crop management. This drill rice matured 20 days earlier than transplanted rice and these lands should be used for Rabi crops.
In the climate change situations and irratic rainfall distribution drill rice is best option. Presently crop condition in these villages is good as compare to farmers practice.